With the seasons, the moisture content in the soil changes in Columbia, MD. So, it's normal when the soil around your home expands and contracts. However, these changes in the soil create pressure that pushes your home's foundation walls inward. As a result, the foundation walls bow. If you have this problem, there is no need to worry! American Eagle Professional Services, Inc. offers reliable bowed wall repair in Columbia, MD. We use industry-standard methods like wall anchors and carbon fiber installation to reinforce bowed walls. Additionally, our foundation experts use high-quality wall reinforcement products. Schedule an appointment with us for a no-obligation bowing wall repair estimate in Columbia, Maryland, today!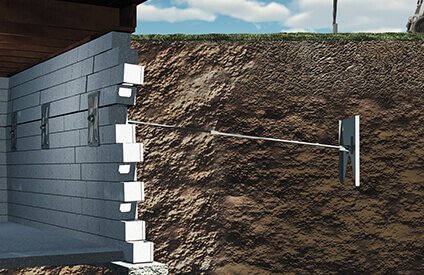 Professional Bowed Wall Repair Services in Columbia, MD
When the basement or retaining walls curve inward, it's known as bowing walls. Normally, when you look at a cross-section of a wall, the plumb line shouldn't fall outside the wall's center of gravity at the base. The wall's center of gravity is the middle third of the wall's thickness. So when the wall has bowed, the plumb line will fall outside the wall's center of gravity. 
Bowing walls can also crack. Depending on the weather, these cracks open and close as per the moisture content of the soil. Bowing also worsens over time, so you may start noticing signs like:
Bulging (bulging of exterior walls)

Wall tilting (wall sliding inwards at the top and/or at the bottom)

Cracking (horizontal, diagonal, and stair-step cracks)
If you notice your wall bowing at any point, contact us immediately. We offer professional bowed wall repair services in Columbia, MD. Our wall anchor and carbon fiber installation solutions include:
A permanent solution to stop foundation walls from falling

Take just 1-2 days to complete

A minimally-invasive process
We don't oversell by saying that our solutions guarantee 100% recovery because, in some cases, walls will be stabilized or, in the worst-case scenario, need to be demolished and replaced. However, we do guarantee that our foundation repair solutions will permanently stabilize the wall. 
For a reliable bowed wall repair service in Columbia, Maryland, call us today!
What Causes Bowing in Basement or Foundation Walls?
Expansive and frozen soil and lateral pressure on the outside of the wall are some of the causes of basement or foundation wall bowing. 
However, the main culprit is—hydrostatic pressure! How? During the first home construction, the backfilled soil is already fragile around your foundation. Hence, during the rainy season, when water fills up in the soil, it expands and swells. Similarly, in the winter season, when water freezes, the soil expands even further. As a result, the soil starts to cause lateral pressure on the foundation walls, forcing them to bow inward.
Here, the main reason why foundation walls aren't able to withstand intense pressure from swelling soils is that these walls are only designed to support vertical loads. The hydrostatic pressure makes foundation walls crack initially and, over time, causes them to bow or tilt inward.
Remember, bowed walls can collapse if they aren't addressed properly and immediately. So, if you see any of your foundation walls or basement walls bowing, you should have them repaired on time. Call us now and get an on-site inspection and repair estimate for bowing as well as wall crack repairs for FREE!
Our Bowed Wall Repair Services in Columbia, MD Include:
Cracking, bowing, and buckling foundations are signs of a serious problem that needs immediate attention. It is common for homeowners to experience a number of issues related to basement leaks when dealing with a damaged foundation. Without help from professionals, these issues will cause more serious problems with your home.
Our team of foundation repair professionals uses a variety of quality foundation repair products to fix bowed or leaning basement walls. We have the experience needed to assess the damage thoroughly and determine what your foundation walls need to regain stability.
Here are some of our bowed wall repair services in Columbia:
1. SafeBasements™ Wall Anchors Reinforcements
The SafeBasements wall anchor system was designed to repair bowed basement walls. The system consists of an anchor and a wall plate designed to pull your basement walls back to where they are supposed to be and provide the needed strength to keep the walls in place. When the wall anchor is installed the lateral strength of your wall is restored and will resist the forces exerted by expanding soils. (410) 263-9682
2. SafeBase™ CarbonFiber Reinforcements
Industry Leading Carbon Fiber Bowed Wall Repair Solution Is Now Available!
For wall reinforcement, we use SafeBase™ CarbonFiber, an industry-leading carbon fiber bowed wall repair solution. Our carbon fiber reinforcement option has gone through rigorous testing and engineering to arrive at a solution that is installer-friendly and firmly secured. Whether residential or commercial our 25-year transferable warranty guarantees we will stand behind our product.
SafeBase™ CarbonFiber Benefits

Where To Use SafeBase CarbonFiber

Quick to install

25-year transferable warranty

Top bracket ties to joists for an ultra-secure connection

Strongest bottom bracket connection in the industry

8″ wide strap allows spacing up to 6′

Best-in-class performance against cracking and bowing 

Bowed walls

Corner wall repair

Foundation cracks
Our bowing wall repair services in Columbia, Maryland, are effective and long-lasting. So, if your foundation walls have begun to bow or tilt inward, contact us today for a no-obligation consultation.
What Is The Best Method For Bowed Wall Repair?
Wall anchors and bracing systems are the best methods for bowed wall repair. However, no two basements are the same. Hence, the best method for bowed wall repair can only be determined once the level of structural damage is inspected. Our professional team, with more than 30 years of experience in this industry, carefully chooses a bowed wall repair solution that is designed to suit your home's needs.
The sooner you catch the problem, the less expensive it will be to fix it. As a general rule of thumb, if a wall is bowing or tilting inward more than 50% of its thickness, then it needs to be demolished and repaired. So, whenever you see any crack or any slight movement in a wall, it's best to contact us ASAP. We will send our best foundation repair professionals to your location for an inspection and quote.
What Are The Benefits Of Carbon Fiber Wall Reinforcement?
Carbon fiber is one of the strongest made-made materials that doesn't stretch or break, which makes it perfect for repairing bowed walls. Carbon fiber wall reinforcement gives many benefits, such as:
It is 10x stronger than steel, and it 100% stops the inward movement of the wall
Installation is fast and clean
It can stabilize both block and poured concrete foundations
Less expensive
It sits flush with the wall and is paintable
Usually, our repair specialists place carbon fiber straps on the wall at approximately every 4′ in the center. It takes us around 1-2 days to complete the project at your home or any other building.
To repair bowed foundation walls with effective carbon fiber wall reinforcement in Columbia, MD, get in touch with us today!
Why Choose American Eagle For Bowing Wall Repair in Columbia?
American Eagle Professional Services, Inc. has built a reputation for offering bowing wall repair with perfect accuracy and reliability in Columbia, Maryland. If you choose us, you will be able to leverage benefits like:
✓ 30+ Years of Experience and Still Counting!
We've been taking care of residential homes since the 1990s. Our experience means that we have seen it all and know how to handle even the most complicated bowed wall scenarios.
✓ Transferable Warranties
We are 100% confident in our work, and it's reflected in our transferable warranties. That means if you sell your home, this warranty can be transferred to the new owner—a significant selling point!
✓ Always Transparent with the Repair & Prices
We never sell our clients unnecessary repairs. Since any foundation repair can be a significant investment, we are always upfront with the costs and our repair process. There will be zero hidden fees or surprises, only transparent pricing and solid communication throughout the project.
✓ Trusted Company with Great Reviews
Our reputation speaks for itself. With numerous positive testimonials and satisfied customers, you can rest assured that you're in good hands. We are committed to making every bowed wall repair project a success.
As our name suggests, we have a keen vision to provide long-term repair services for bowing walls. And no matter the type and size of your problem, we remain fearless to fix it 100%.
Remember to call us for bowing wall repair in Columbia, MD!
Contact Bowed Wall Repair And Reinforcement Experts in Columbia, MD
Don't wait any longer! Contact our bowed wall repair and reinforcement experts in Columbia, MD, and secure the foundation of your home. We will work diligently to ensure that your walls are safe, strong, and built to last. Call us at 1 (410) 263-9682 to tell us your exact problem!
View Our Brochure
Frequently Asked Questions (FAQs)
The best way to reinforce bowed basement walls is to use carbon fiber straps. This bracing system is the best option due to its minimal invasive installation process. Additionally, it can fix the foundation wall even if the wall has less than 2 inches of bowing. Similarly, this method is cheap, fast to install (i.e., 1 to 2 days), and prevents further wall bowing permanently.
Bowed wall repair depends on how many repair units are used. Usually $2700 to $7800.
Yes! Carbon fiber reinforcement works on bowing, buckling, and cracked foundation walls. Since carbon fiber is the strongest man-made material, it is highly durable and doesn't stretch or break. Hence, carbon fiber straps can reinforce the wall and restore stability.
In most cases, it is not, but please check with your insurance agent.
Less than 1″ or 2″ of bowing is acceptable for basement walls. To measure the bowing on your basement wall, tie a weight to a string and hang it from the furthest bowed part of the wall in the center to the floor. If there's 6 inches or more of deflection on the walls, the basement walls are severely bowed, and they need to be replaced immediately.
To repair a bowed wall, we install one or more wall anchors in the damaged area. In this process, we bury a large steel earth plate vertically in the ground in untouched soil outside the foundation. After that, we secure a rod that's connected to an interior plate. Tension is placed on the interior plate and tightened to proper pressure.