Your home's HVAC ecosystem has many important elements. One of the main components is the dehumidifier that is designed to control the humidity levels throughout your home. Dehumidifiers play an important role in preventing mold from spreading. Our specialists at American Eagle in Columbia, MD rely on Santa Fe dehumidifiers to control indoor humidity and reduce problems stemming from moisture like beam rot, mold growth, and allergens.
When it comes to controlling moisture in your home, there is no better choice than doing a dehumidifier installation. American Eagle offers several models of Santa Fe dehumidifiers to accommodate any size of room or area affected by high moisture content. These dehumidifiers can be installed quickly in any basement or crawl space. Our experts also recommend dehumidifiers for mold remediation, as one of the main causes of mold growth is excess moisture.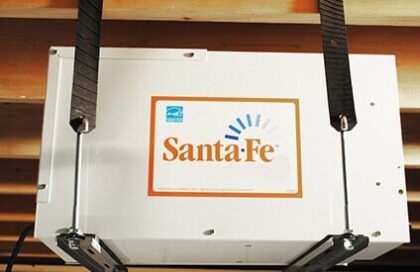 How Can A Dehumidifier Help You?
The only effective way to remove moisture from the air and to make your home feel drier and more comfortable is by having a dehumidifier installed. High humidity levels can pose a threat to your home, your pets and your family. Here are a few signs that may indicate that you need a dehumidifier:
Indoor allergies
Water marks on your walls and ceilings
Thick, stuffy, and difficult air
Mold and mildew in your basement, crawl space, and living spaces
Condensation buildup on windows
Moist and clammy skin while inside
If you experience any of the above symptoms, installing a dehumidifier in your home may be the perfect solution. Protect your home from mold growth and other damage caused by excess moisture by contacting our dehumidification specialists today!
Advantages Of Santa Fe Dehumidifiers
All units are Energy Star® Certified
Large capacity
Designed for crawl spaces and basements
Covered with one of the best warranties in the industry
Commercial quality
Stop and prevent mold growth
Keep your home and family comfortable
Dehumidifiers We Provide in Columbia, MD: Santa Fe Dehumidifiers
Santa Fe offers a wide variety of dehumidifiers for any size of room and any type of moisture problem and has the best variety of eco-friendly dehumidifiers on the market.
Santa Fe Classic Dehumidifier
Ranked as one of the most energy-efficient residential dehumidifiers on the market, the Santa Fe Classic Dehumidifier eliminates mold and mildew problems in large, humid basements and crawl spaces. The Classic can remove up to 110 pints of moisture per day under AHAM conditions (80 degrees F at 60% Relative Humidity) and more if placed in an area with higher humidity.
Santa Fe Force Dehumidifier
Humid crawl spaces and clammy basements are no match for the Santa Fe Force Dehumidifier., As the newest crawl space dehumidifier, the Force controls damaging humidity in both large and small crawl spaces and basements. Under standard rating conditions (80 degrees F at 60% Relative Humidity), the Santa Fe Force can extract up to 120 pints of moisture per day.
Contact Our American Eagle Team For Dehumidifier Installation in Columbia, MD
If your home is in need of a dehumidifier, look no further. Our experts can help you by installing a Santa Fe dehumidifier in your crawl space or basement quickly and can have your home free of excess moisture in no time. Schedule an appointment by contacting us online or by calling us at (410) 263-9682 to speak to one of our experts.