Have you noticed that the floors of your home appear uneven? Unfortunately, one of the most common issues our experts see when it comes to crawl spaces is sagging floors. When the support beams of your home are exposed to moisture in the crawl space, these issues tend to arise. Most companies will suggest that you replace the floor beams once this happens, which is not only time-consuming, but it is also incredibly expensive. Our team at American Eagle Professional Services in Annapolis can repair your sagging floors permanently for a reasonable cost. Our crawl space solution company in Annapolis uses a patented floor jacking system to raise and support your support beams right where they are sinking.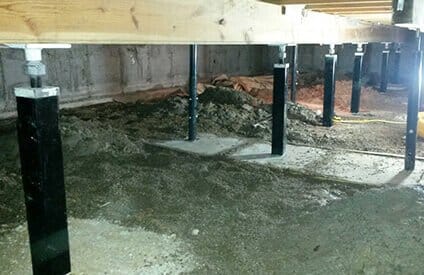 What Can Cause Sagging Floors
Sagging floors are caused by high humidity in your crawl space. Even when your floors don't appear uneven, it is likely that they are sagging. Excess moisture in your crawl space saturates the wooden beams supporting your home, causing them to weaken and sag.
How To Identify Sagging Floors
Sagging floors in your home may be hard to spot. Our experts recommend a simple test to see if your floors are uneven. By placing a marble or pencil on the floor you can test to see if you have sagging floors by checking to see if the object rolls away in any direction.
How Does American Eagle Fix Sagging Floors?
Our team at American Eagle Professional Services in Annapolis uses a patented floor jacking system which is designed to withstand the weight of an entire home. Installed directly into your crawl space area, these support jacks are placed methodically to support the beams that are sagging. Once installed the support jacks are raised to level your home and to permanently support and even out your uneven floors.
It is important to note that having crawl space supports installed will not completely solve the issue. Often, we will recommend a crawl space encapsulation system along with crawl space supports to stop any other beams from becoming damaged.
LightFoot™ Crawl Space Stabilizer Base
The LightFoot Stabilizer base (patent pending) is a revolutionary new stabilizer footing. At only 8 lbs., this base is able to hold more than 10,000 lbs.! This footing, designed to be paired with any SafeBase – stabilizer, uses high strength polyurethane foam and can be easily maneuvered into hard to access areas where concrete footings are difficult to install. Our floor jacking installation process at your Annapolis residence is quick and can be achieved after just 15 minutes. Avoid the hassle, save your time, and we'll save your foundation from failure



LightFoot Benefits
Quick – Full load capacity in 15 minutes
Lightweight – Weighs only 8 lbs. and improves installation in limited access areas
Strong – Tested to go beyond 10,000lb capacity
Adaptive – Can be used in a wide range of scenarios
Contact American Eagle for Sagging Floor Repair in Annapolis
If you've noticed any of the problems above then you should contact our experts online or by calling (410) 263-9682 immediately to schedule an inspection and sagging floor repair services.