Are heavy rains causing basement or crawl space flooding? If you have observed basement or crawl space leaks after heavy rains or in the after snow melts or you have a wall or floor crack in your foundation, then you know this is a potentially dangerous problem. Our experts at American Eagle Professional Services, Inc. is ready to assist you when there is any kind of basement flooding, foundation settlement, or bowed wall problems. We use methods that have been tested to keep your home safe and dry. Our team in the Baltimore area are trained to properly identify issues in your crawl space and to provide you with a waterproofing solution to prevent the issue. We install waterproofing and structural repair solutions for homeowners that are backed by years of industry experience.
If seen a problem with your foundation or basement it is important that you contact a waterproofing expert. We say this because there are a number of issues that could be dangerous, including mold, weakened structure, and even catastrophic foundation damage. If you are in need of our basement waterproofing products to stop water from damaging your home, foundation repair services to prevent foundation damage or crawl space services to prevent uneven floors, our experts are here to help you.
Mold Testing & Removal
Is there mold growth in your home or business? Have you noticed any negative side effects of this mold growth? Our team at American Eagle Professional Services offers professional mold testing and mold remediation services to help combat the mold growth in your home or business. We have years of experience identifying and removing mold from basements and buildings in Baltimore, and can help you solve any issues you may be experiencing.
Our mold remediation and removal techniques are guaranteed to stop mold growth at the source. In some basements where the relative humidity levels in your home are unmanaged, we may suggest having a dehumidifier installed in their home.
What Is Black Mold
Black mold is potentially one of the most toxic molds that exists. However, by being able to identify black mold and understand how to test for and remove it, we can help to keep your home free of toxic black mold.
What Health Hazards Does Black Mold Cause?
Toxic Mold can cause a number of allergic reactions and health problems. Most times, depending on the how long the mold has been present, symptoms can include headaches, fatigue, fever, irritation to the nose mouth and throat, and sneezing. In cases where you have had exposure over a long period of time symptoms such as nausea, vomiting, and bleeding in the lungs and nose may occur.
Professional Basement Waterproofing
Your basement is an important area in your home whether you are using it for storage or have it finished as a living space for your family. This means it is imperative that you keep the area free of flooding. There are a number of areas that water can enter your home, because of this we offer a number of different repair systems to help keep the water out of your basement. The most likely place where we find basement leaking is where there are cracks in the foundation walls. These are usually in the concrete or at mortar joints between blocks. It can also occur with floor cracks and at the cove joint where the foundation walls and floor meet.
Whatever the issue you are having we have waterproofing systems that will remove water from your basement. If you have foundation cracks, one of the solutions our experts will recommend is to have a wall crack repair product installed to stop the crack growth and water leak. If water is entering at the cove joint or other areas we can install a custom waterproofing system to help remove the water. In some more extreme cases, we may recommend installing a sump pump system to help with the removal of water. Our experts have the basement waterproofing solutions you need to keep your home safe.
Professional Foundation Repair
The foundation of your home is possibly one of the most important support structures of your home. It not only supports the home itself but also the basement walls. If you have got foundation problems, normally they will show themselves as stair stepping cracks in blocks and horizontal cracks that run the length of the basement walls. Sometimes, you will notice that the windows will not open easily. You may also notice a problem where the foundation walls have begun to press inward or bow. You may not think these problems are dangerous when you see them, however, they are all indicative of a sinking or settling foundation that should be checked out by a professional to determine if a repair needs to be installed.
Thankfully, many foundation problems stem from common issues and our experts are very good at identifying these problems. Our Experts can offer a foundation repair solution designed for your particular problem to permanently repair and stabilize the foundation. If the issue is a sagging foundation, we can install a system of foundation piers to bring the home back to level. Depending on how bad the damage is and where it is we can use either helical piers or push piers. Both are very strong and can stabilize your foundation. If you notice bowed basement walls, depending on how much the wall is leaning, we can install foundation wall anchors to pull the walls back to their original location and provide needed support.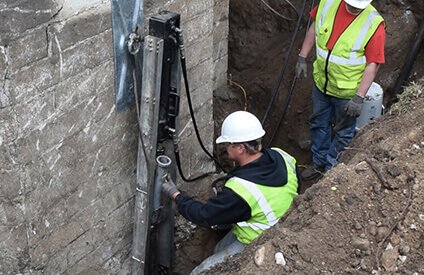 Professional Crawl Space Solutions
In the Baltimore area, there are many homes that were constructed with crawl space areas instead of basements. For years they were created with vents to the outside. These vents were created to help keep fresh air moving through the space and to keep it dry. Unfortunately, this is not what really happens, having these vents allows water to get in during heavy rain. This water tends to stay in your crawl space resulting in the humidity level staying too high causing the growth of mold. Up to half of the air in your home enters through the crawl space, so having the space protected from the outside and controlling excess humidity will benefit the overall air quality in your home.
Our team has been waterproofing crawl spaces since we opened our doors, and we know the most efficient way to close them off and control humidity. This is best achieved using a process known as encapsulation which is the installation of a waterproof line, sometimes accompanied by other waterproofing systems to keep water out of your crawl space. Encapsulation will stop bugs and animals from getting into your crawl space as well allowing you to use it for storage. Water in your crawl space can also cause sagging floors. We can install a crawl space support system to stop sagging floors and support your home.